We're Not part of the Solution -- We're part of the Problem!!
We're always trying to get things in order so please bear with us... Any notes, Comments - Inquiries or Cashier's Checks please forward to: Good ol' Joshua_Quagmire
•
November 2013
•
Recently all our friends in the Tea Party (America's answer to the Luddites) have been doing such swell work, like um... managing to bring the whole country to a dead stop for a while and wasting billions of dollars in doing so - it just seemed that we ought to do something to commemorate this marvelous accomplishment of theirs... As such, seemed maybe would be fun to illustrate another Tea Party in which Time was brought to a halt by an entirely different gang of goofy, deranged characters... only Boehner & Co. didn't have the excuse of a Magic Watch with bread-crumbs in the works... Just a bunch of Crumbs in the House, trying to turn back the Clock...
And speaking of unbalanced dangerous characters... Yes, it's time for another plug for Bunz & Katz, the comix that has everyone talking... (Mostly they're talking about: "How can we Ban this thing?") Recently we posted a new Halloweeny story that you can sing along to - or if you can't carry a tune, you can just hum along... All this and more, at: www.BunzandKatz.com JQ...
•
•
•
As for Xmas, just recently past - You do realize, don't you, that if all that Mayan Calendar brouhaha is correct, this could have been the last Xmas ever, for most of us? Fortunately (for myself, anyway) I don't buy into any of that - or, truth to tell, I don't believe in any of this Xmas mythology either - (Santa, Saturnalia, the Birthday Boy, or Cincinnati)... But, be that as it may - on Xmas Eve, while Santa was supposedly out on his yearly delivery route and many of the rest of you were partying, or last minute present wrapping, I was sitting up, listening to "Coast to Coast" on the radio - then, when that got too silly, I switched over to Spike Milligan reading his warped war memoirs - while I colored in the last few pages of this minor Xmas Opus... Because, you see, while for much of the country, Xmas is white an' snowy - here in Los Angeles it's more greenish (or in east LA, kind of a grungy rust color)... So, in the spirit of a Green Xmas, we present Io & Callisto, those two fun-loving and enterprising Green Alien Bunnies, who seem to have gotten one of those seasonal jobs this Xmas eve...
Without further ado - just click on this link to take you to our li'l Xmas Gift story - rated "PGXS" ("XS" for Excessive Stupidity) Also, a thanx to Walt for Misc. Kibitzing and my Neighbors with the loud party, who would have made it difficult to sleep anyway... Uh Huh JQ...
•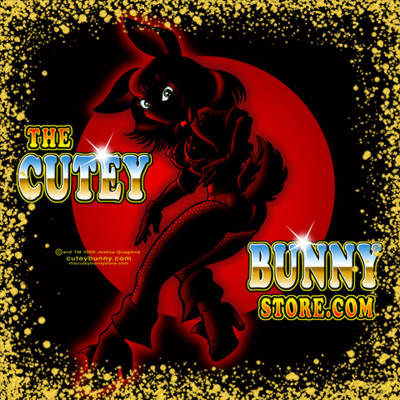 Yes, that's right - another Shameless Plug: The Cutey Zazzle store is still cookin' - this month has new designs for your perusal... Now we've got Beer steins and Coffee mugs imprinted with the Bunny's image... and also T-Shirts, posters, buttons, cards, neckties, mouse pads and skateboards, all with the full-color images of Kelly, Vicky, Bronco Bunny, Li'l Blondie Beaver, even the Battle Maids pictured here, a Bedroom Angel and Mermaid Jazz too... All at the new Cutey Bunny Store! So Go have a look -
•••
QT Calendars are Easy to use with Mac OS8x or Win95/NT,.. older Mac systems need a display utility like ZMacs-BackSplash... Cutey & Cutie Bunnies and associated characters are Copyright and TM 1998 Joshua Quagmire These Calendar Pix are free for personal use but not for reposting or any form of resale..!