We're Not part of the Solution -- We're part of the Problem!!
We're always trying to get things in order so please bear with us... Any notes, Comments - Inquiries or Cashier's Checks please forward to: Good ol' Joshua_Quagmire
•
August 2015
Note: I updated the Calendar pix Early in the AM on Thurs. the 6th -- Please update your Calendars if you have the older version...
As the saying goes, "Once in a Blue Moon something amazing happens"... Well, towards the end of July, we had a Blue Moon and sure enough several amazing things have transpired recently... First off there was the truly amazing flyby of Pluto by the New Horizons Probe, Then there were pieces of the long missing Flight 370 which seem to have washed ashore on Reunion island... Somewhat less amazing, Kraft Cheese had a recall and speaking of cheese, Candidate Donald Trump said something that made sense... (The Mind Boggles!) and finally, for local amazement the neighbor's cat had kittens... I realize that this may not seem all that amazing, but one of them was a puppy! We're still wondering about that...
Oh Wait, I almost forgot, the number ONE amazing thing for this Blue Moon, is the return (once again) of Art Bell to Broadcasting (or Podcasting anyway)... Over the years, late night talk show host Art Bell, has retired and returned several times... In fact, it was back in March of 2001, during a previous return by Art, that we celebrated that time around with a calendar pix also featuring Io and Callisto the green alien bunnies in their first appearance... since then they've appeared in other space themed calendars - while this month they're back again to help commemorate Art's most recent return...
For those of you interested, check out www.artbell.com for news and podcast times (9pm weekdays Pacific time - Midnight East Coast time)... Following Art, Richard Hoagland is also doing a Podcast show, usually discussing some iffy science related topic... So if perhaps you're fascinated by the weird, the off kilter, the Abby-Normal, then give 'em a listen... JQ
•
•
It seems my pal Sean has come up with this cute li'l paper doll sort of model Paper Toy that you can put together... all you need is a Printer and some Elmer's Glue and a bit of patience, an' before you know it, there she is!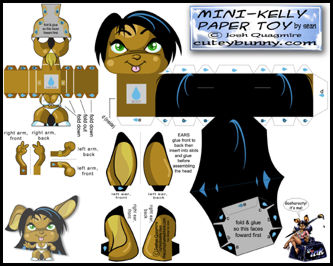 Click on the Pix to download a Printable Version...
A few notes from Sean on printing and such:
These li'l guys really should be printed on card stock. If you use regular paper the glue tends to wrinkle them up a bit, no matter how sparingly you use it...
For cutting, a hobby knife would be best - or tiny li'l nail scissors... Jus' plain ol' Elmer's glue will do for stickin' these together...
It takes maybe about an hour to cut and glue her together... perhaps a bit longer if you have to wait for the glue to set on some parts before proceeding...
So there you have it. Just download the high - resolution Jpeg (300 dpi), which is why it's a li'l large on file size, but will print sharper... then get to work - an' you may have your very own Bunny in time for Valentine's Day!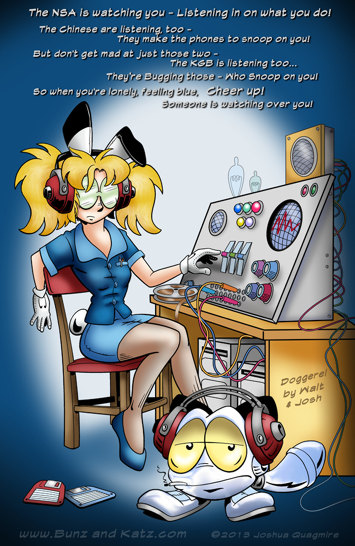 •
•
•
•
•
•
•
•
•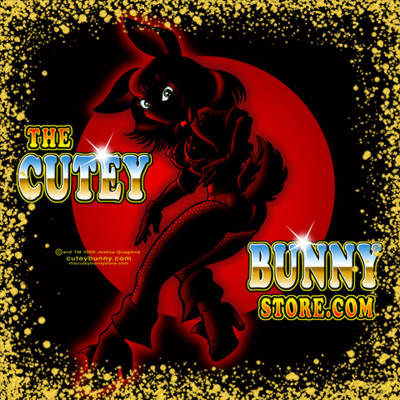 Yes, that's right - another Shameless Plug: The Cutey Zazzle store is still cookin' - this month has new designs for your perusal... Now we've got Beer steins and Coffee mugs imprinted with the Bunny's image... and also T-Shirts, posters, buttons, cards, neckties, mouse pads and skateboards, all with the full-color images of Kelly, Vicky, Bronco Bunny, Li'l Blondie Beaver, even the Battle Maids pictured here, a Bedroom Angel and Mermaid Jazz too... All at the new Cutey Bunny Store! So Go have a look -
•••
QT Calendars are Easy to use with Mac OS8x or Win95/NT,.. older Mac systems need a display utility like ZMacs-BackSplash... Cutey & Cutie Bunnies and associated characters are Copyright and TM 1998 Joshua Quagmire These Calendar Pix are free for personal use but not for reposting or any form of resale..!