We're Not part of the Solution -- We're part of the Problem!!
We're always trying to get things in order so please bear with us... Any notes, Comments - Inquiries or Cashier's Checks please forward to: Good ol' Joshua_Quagmire
•
June 2017
•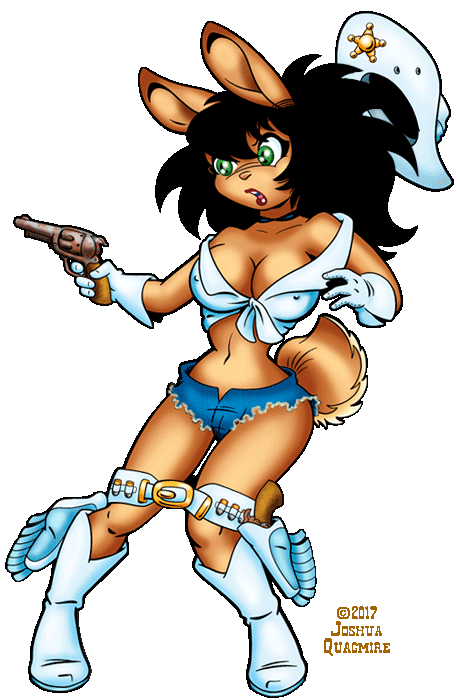 Wal howdy now, li'l sure-shots... Journey with us now to them thrillin' days o' yesteryear, ta High Noon in the hot sun - the waftin' scent o' sun-dried grass, an' un-dried hoss-apples, an' black powder gunsmoke, as Bronco Bunny and Kalamity Kitty shoot it out onst agin on the hot dusty streets of Silvertown, where many a bad hombre has bit the dust - though seems prob'bly the only bitin' done today, will be in the Cat-Fight ta immejitly follow the gunplay - just as soon as the two furious femmes run out of bullets, that is...
'Cuz while Kalamity may be a tad faster draw with her Navy Colt, she can't hardly hit the broad side o' a Broad...... Whilst with Bronco's rusty 45s, she's lucky if they fires at all! Followin' the Showdown an' Cat-fight, most likely the girls will end up at Miss Vicky's "Schoolhouse" for a bath and other shenanigans... But that's mebbeso for another calendar pr'aps...
That aside - Instead of the usual Bikini Calendar for June - thought we'd go with something a bit different this time around - with thanx to Bad Bill Bunion for the idea... For those of you who may not be up on your Western Movie lore, "Silvertown" was the western street at Ray "Crash" Corrigan's, Corriganville Movie Ranch - and which was the setting for many a TV and Movie showdown... Unfortunately, it all burned to the ground back in the '70s, but the memories still linger on...
As for our July calendar - If anyone has an idea, I'm open to requests... JQ
•
•
Yes! Kelly has her own Facebook page!! Check in and see what she's up to today - Okay?? JQ
•
•
It seems my pal Sean has come up with this cute li'l paper doll sort of model Paper Toy that you can put together... all you need is a Printer and some Elmer's Glue and a bit of patience, an' before you know it, there she is!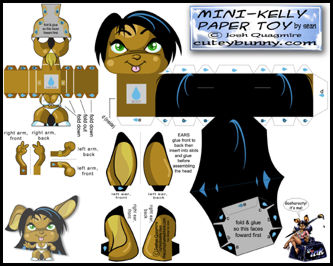 Click on the Pix to download a Printable Version...
A few notes from Sean on printing and such:
These li'l guys really should be printed on card stock. If you use regular paper the glue tends to wrinkle them up a bit, no matter how sparingly you use it...
For cutting, a hobby knife would be best - or tiny li'l nail scissors... Jus' plain ol' Elmer's glue will do for stickin' these together...
It takes maybe about an hour to cut and glue her together... perhaps a bit longer if you have to wait for the glue to set on some parts before proceeding...
So there you have it. Just download the high - resolution Jpeg (300 dpi), which is why it's a li'l large on file size, but will print sharper... then get to work - an' you may have your very own Bunny in time for Valentine's Day!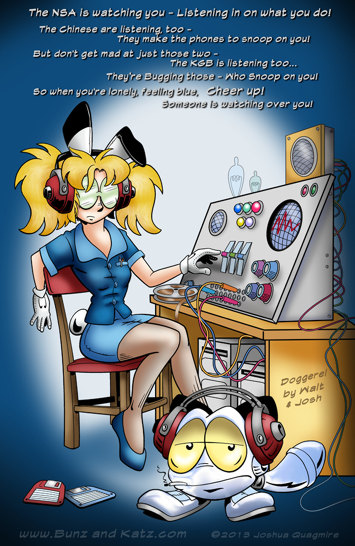 •
•
•
•
•
•
•
•
•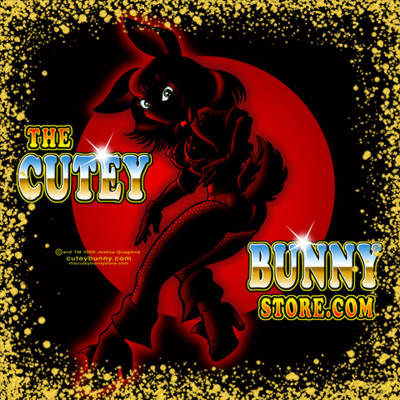 Yes, that's right - another Shameless Plug: The Cutey Zazzle store is still cookin' - this month has new designs for your perusal... Now we've got Beer steins and Coffee mugs imprinted with the Bunny's image... and also T-Shirts, posters, buttons, cards, neckties, mouse pads and skateboards, all with the full-color images of Kelly, Vicky, Bronco Bunny, Li'l Blondie Beaver, All at the new Cutey Bunny Store! So Go have a look -
•••
QT Calendars are Easy to use with Mac OS8x or Win95/NT,.. older Mac systems need a display utility like ZMacs-BackSplash... Cutey & Cutie Bunnies and associated characters are Copyright and TM 1998 Joshua Quagmire These Calendar Pix are free for personal use but not for reposting or any form of resale..!