We're Not part of the Solution -- We're part of the Problem!!
We're always trying to get things in order so please bear with us... Any notes, Comments - Inquiries or Cashier's Checks please forward to: Good ol' Joshua_Quagmire
•
May 2016
•
For our Calendar pix this month, we celebrate Nefarious Nogoodniks... Yes, as various Presidential Candidates go down the Plug 'Ole, we hopefully have seen the last of them! (Now if we could only get rid of Hillary & Trump too!) But moving along from the Odious to the Unlawful, it seems appropriate that we present for our May calendar, a Grand Aggregation of Arch-Villains, intent upon nothing less than the Destruction of Earth itself! (That's Bunz and Katz we're talking about, you understand)... Though these the other guys here are pretty rotten too!
There's Glueface, a sticky malefactor to deal with... The Clown Crumb of Crime, and his Carnival of Carnage... The 3DD Kitty, a pulchritudinous villainess wearing 3D glasses and a 3D topset... Some frostbitten fool... and of course Frankie, a real mama's boy (in parts, at least)... Gosharootie, Comix Fans, can the Bat-Temp triumph over this Conglomerated Congregation of Crime?? Tune in to www.bunzandkatz.com where you may eventually find answers to these and other crime fighting conundrums... or then again, maybe not...
Last night, (the 2nd) as I was finishing up this top pix of Bunz on the run, I noticed that the Cutey site (This One) had gone off line... I thought perhaps the Server was down for maintenance, but then, checking with the Hosting Server site, I found that it was down as well... This was somewhat troubling – Still, the Email server remained working, as well as Bunz & Katz site (Which is hosted by the same company, but on a different server than this one)... however, about an hour later, Bunz & Katz plus the mail server went down as well... Well, nothing to do, but drink a beer (which I did) and kept on working... then, about an hour later everything came back on line... I have no idea what happened... and here I'd thought that I had a perfect excuse for being late again...
Next month, we'll be into Bikini Season - As such, if anyone has a request for the June & July calendars (which don't actually have to include bikinis) then feel free to send in your suggestion... If I use your idea, then you may win a valuable prize... (Or you may win some piece of random junk that I have lying about) One never knows... Including myself...
But for now, I suppose I'd better get back to hashing out this HTML... JQ
•
•
But that aside - should mention that Kelly has her own Facebook page!! Check in and see what she's up to - Okay?? JQ
•
•
It seems my pal Sean has come up with this cute li'l paper doll sort of model Paper Toy that you can put together... all you need is a Printer and some Elmer's Glue and a bit of patience, an' before you know it, there she is!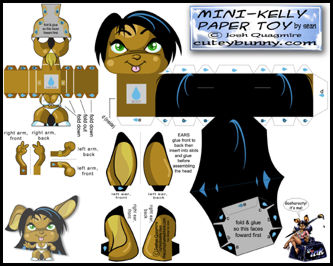 Click on the Pix to download a Printable Version...
A few notes from Sean on printing and such:
These li'l guys really should be printed on card stock. If you use regular paper the glue tends to wrinkle them up a bit, no matter how sparingly you use it...
For cutting, a hobby knife would be best - or tiny li'l nail scissors... Jus' plain ol' Elmer's glue will do for stickin' these together...
It takes maybe about an hour to cut and glue her together... perhaps a bit longer if you have to wait for the glue to set on some parts before proceeding...
So there you have it. Just download the high - resolution Jpeg (300 dpi), which is why it's a li'l large on file size, but will print sharper... then get to work - an' you may have your very own Bunny in time for Valentine's Day!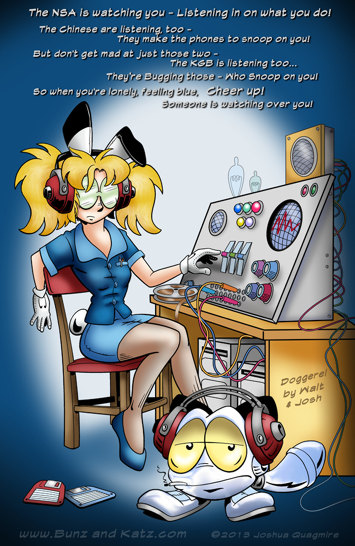 •
•
•
•
•
•
•
•
•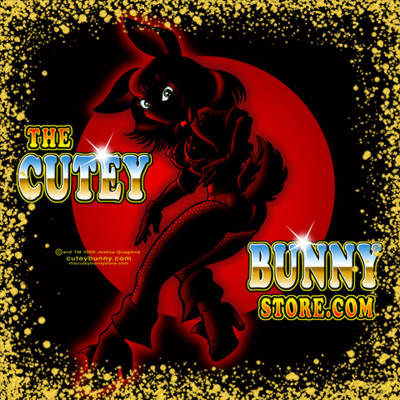 Yes, that's right - another Shameless Plug: The Cutey Zazzle store is still cookin' - this month has new designs for your perusal... Now we've got Beer steins and Coffee mugs imprinted with the Bunny's image... and also T-Shirts, posters, buttons, cards, neckties, mouse pads and skateboards, all with the full-color images of Kelly, Vicky, Bronco Bunny, Li'l Blondie Beaver, All at the new Cutey Bunny Store! So Go have a look -
•••
QT Calendars are Easy to use with Mac OS8x or Win95/NT,.. older Mac systems need a display utility like ZMacs-BackSplash... Cutey & Cutie Bunnies and associated characters are Copyright and TM 1998 Joshua Quagmire These Calendar Pix are free for personal use but not for reposting or any form of resale..!