We're Not part of the Solution -- We're part of the Problem!!
We're always trying to get things in order so please bear with us... Any notes, Comments - Inquiries or Cashier's Checks please forward to: Good ol' Joshua_Quagmire
•
April 2016
•
Well, here it is April already and we're doin' something a li'l different this month... No Easter Calendar with the Bunnies an' Eggs an' stuff - because well, this is one of those odd years where Easter slipped into March... So what we're going to do instead is commence a new story arc with Bunz & Katz - and for once, I actually have the Calendar posted on time -- and the B&K page posted in sync with the Calendar - You can read the beginning of the story at Bunz and Katz.com (or just click on this link)... Because Y'know, in this great comic universe (and if you don't think it's "Comic" try watchin' the Electoral Debates - what a bunch of Clowns!) Yes, in this great comic universe, even a Hero needs some time off now and again... And when they do, who're they gonna call to fill in for them? Why, the BAT TEMP, of course... With apologies to Bob Kane and Bill Finger...
Due to a tragic error of judgement, plus the chronic ailment known as "Lakomunny", Bunz & Katz are turned loose in the Urban Jungle, their mission to keep the peace - or if not that, to take a piece out of the Crooks!! Felons beware, your days are numbered with the Bat Temp on the prowl!! No Mugger is safe! No 2nd story man is out of their reach! No Purse Snatcher is beyond their Grasp! No Jay Walker is going to walk away! Will the Villains cower and hide at the sinister symbol of the Temp-Signal... or just stick around to get a good laugh? Well, um... let's hope that someone gets a laugh out of this!
And for any Lawyers reading our little promo piece - Holy Parody Temp Fans!! JQ
•
•
But that aside - should mention that Kelly has her own Facebook page!! Check in and see what she's up to - Okay?? JQ
•
•
It seems my pal Sean has come up with this cute li'l paper doll sort of model Paper Toy that you can put together... all you need is a Printer and some Elmer's Glue and a bit of patience, an' before you know it, there she is!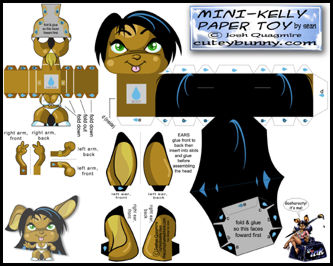 Click on the Pix to download a Printable Version...
A few notes from Sean on printing and such:
These li'l guys really should be printed on card stock. If you use regular paper the glue tends to wrinkle them up a bit, no matter how sparingly you use it...
For cutting, a hobby knife would be best - or tiny li'l nail scissors... Jus' plain ol' Elmer's glue will do for stickin' these together...
It takes maybe about an hour to cut and glue her together... perhaps a bit longer if you have to wait for the glue to set on some parts before proceeding...
So there you have it. Just download the high - resolution Jpeg (300 dpi), which is why it's a li'l large on file size, but will print sharper... then get to work - an' you may have your very own Bunny in time for Valentine's Day!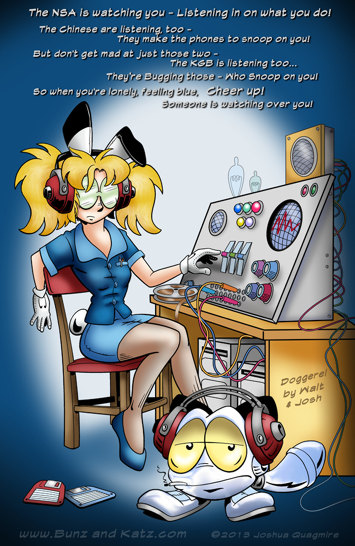 •
•
•
•
•
•
•
•
•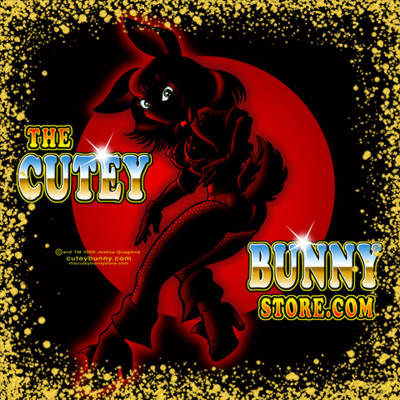 Yes, that's right - another Shameless Plug: The Cutey Zazzle store is still cookin' - this month has new designs for your perusal... Now we've got Beer steins and Coffee mugs imprinted with the Bunny's image... and also T-Shirts, posters, buttons, cards, neckties, mouse pads and skateboards, all with the full-color images of Kelly, Vicky, Bronco Bunny, Li'l Blondie Beaver, All at the new Cutey Bunny Store! So Go have a look -
•••
QT Calendars are Easy to use with Mac OS8x or Win95/NT,.. older Mac systems need a display utility like ZMacs-BackSplash... Cutey & Cutie Bunnies and associated characters are Copyright and TM 1998 Joshua Quagmire These Calendar Pix are free for personal use but not for reposting or any form of resale..!