We're Not part of the Solution -- We're part of the Problem!!
We're always trying to get things in order so please bear with us... Any notes, Comments - Inquiries or Cashier's Checks please forward to: Good ol' Joshua_Quagmire
•
July 2015
Well, it's July in California... (I'm not 100% certain what month it may be in other parts of the world - but here in California, it's July...) That means Heat, and Fireworks and masses of humanity heading for the Beach... Meanwhile, here at the Quagmire Comix Werkz, we continue on with our CopperTan theme - this time with Bunz and Katz, who seem to be having some sort of Bikini related altercation... Exactly the what or the why (other than Fan Service) shall probably remain obscure - and probably just as well...
I should also pause for a moment to point out that Bunz and Katz are featured in their own online comix at: www.bunzandkatz.com ...or if you're typing impaired, you can use: www.bunznkatz.com ...or if you're just anal on spelling: www.bunsandcats.com works too...
In July, other than celebrating the 4th, Bastille Day, Canada Day, Amelia Earhart Day, Sidewalk Egg Frying Day, Teddy Bear Picnic Day, and UFO day... the truly momentous event this month, is that Art Bell returns to radio... er Podcasting on the 20th!! Check out: www.artbell.com for info and other stuff...
I've really missed Art, and hope he does well this time around!! JQ
•
•
It seems my pal Sean has come up with this cute li'l paper doll sort of model Paper Toy that you can put together... all you need is a Printer and some Elmer's Glue and a bit of patience, an' before you know it, there she is!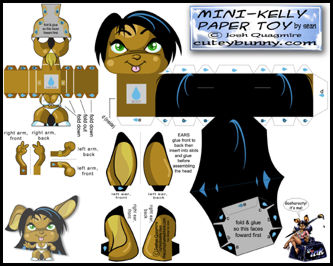 Click on the Pix to download a Printable Version...
A few notes from Sean on printing and such:
These li'l guys really should be printed on card stock. If you use regular paper the glue tends to wrinkle them up a bit, no matter how sparingly you use it...
For cutting, a hobby knife would be best - or tiny li'l nail scissors... Jus' plain ol' Elmer's glue will do for stickin' these together...
It takes maybe about an hour to cut and glue her together... perhaps a bit longer if you have to wait for the glue to set on some parts before proceeding...
So there you have it. Just download the high - resolution Jpeg (300 dpi), which is why it's a li'l large on file size, but will print sharper... then get to work - an' you may have your very own Bunny in time for Valentine's Day!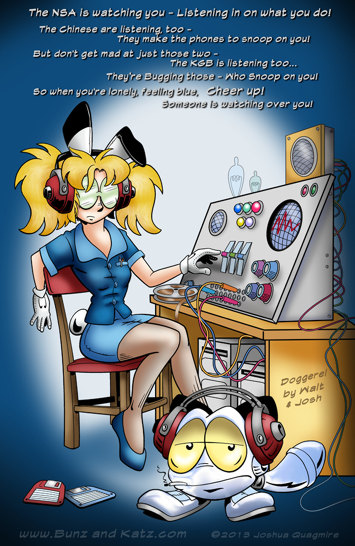 •
•
•
•
•
•
•
•
•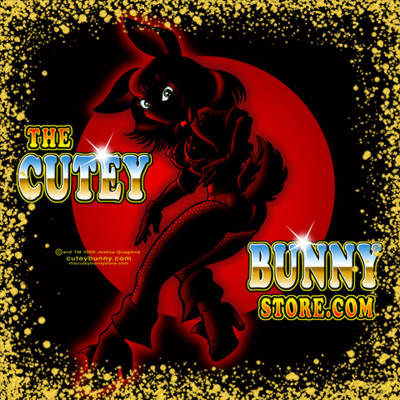 Yes, that's right - another Shameless Plug: The Cutey Zazzle store is still cookin' - this month has new designs for your perusal... Now we've got Beer steins and Coffee mugs imprinted with the Bunny's image... and also T-Shirts, posters, buttons, cards, neckties, mouse pads and skateboards, all with the full-color images of Kelly, Vicky, Bronco Bunny, Li'l Blondie Beaver, even the Battle Maids pictured here, a Bedroom Angel and Mermaid Jazz too... All at the new Cutey Bunny Store! So Go have a look -
•••
QT Calendars are Easy to use with Mac OS8x or Win95/NT,.. older Mac systems need a display utility like ZMacs-BackSplash... Cutey & Cutie Bunnies and associated characters are Copyright and TM 1998 Joshua Quagmire These Calendar Pix are free for personal use but not for reposting or any form of resale..!