We're Not part of the Solution -- We're part of the Problem!!
We're always trying to get things in order so please bear with us... Any notes, Comments - Inquiries or Cashier's Checks please forward to: Good ol' Joshua_Quagmire
•
May 2013
•
•
Here it is May again - and once again, I'm a li'l late with the Calendar... Mostly because I've been so busy workin' on Bunz & Katz that I jus' forgot about doing anything this time -- As such, this is a bit of last minute improvisation... Fortunately, a friend had sent me a couple of Tulip photos that he'd taken himself (can we all say: "Copyright Clear"?) and as "April Showers bring May Flowers" It seemed perhaps time for a reprise of the Little Dutch Dyke...
Yes, I think we all fondly recall that beloved tale of our youth, the Little Dutch Dyke, which goes something like this: "One day Hans Christian Andersen was strolling by the Zider Zee when he tried to stick his thumb into... And um... erm, well... that wasn't a good idea, an' in any case, She slugged him! So he staggered on home, put an icepack on his noggin and wrote a story about The Ice-Maiden instead..." Uh Huh... JQ
Also, perhaps I should mention that our online comix - Bunz & Katz - (an Alien invasion gone terribly, terribly wrong!) is still chuggin' along... Check it out at: www.BunzandKatz.com
•
•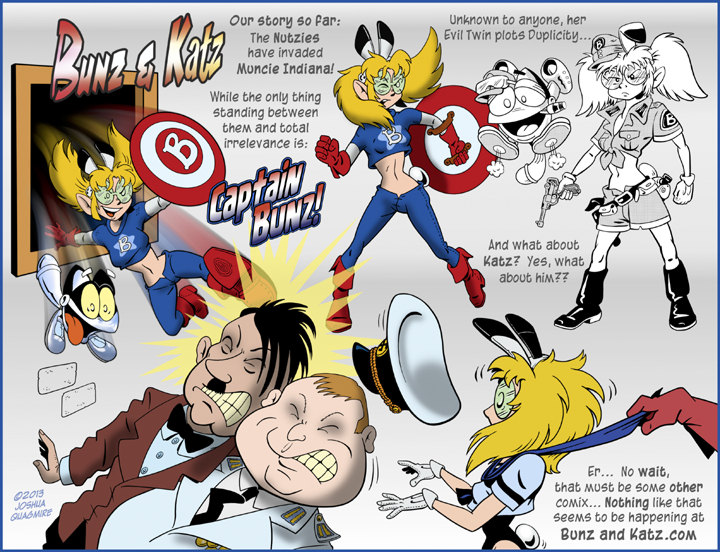 •
As for Xmas, just recently past - You do realize, don't you, that if all that Mayan Calendar brouhaha is correct, this could have been the last Xmas ever, for most of us? Fortunately (for myself, anyway) I don't buy into any of that - or, truth to tell, I don't believe in any of this Xmas mythology either - (Santa, Saturnalia, the Birthday Boy, or Cincinnati)... But, be that as it may - on Xmas Eve, while Santa was supposedly out on his yearly delivery route and many of the rest of you were partying, or last minute present wrapping, I was sitting up, listening to "Coast to Coast" on the radio - then, when that got too silly, I switched over to Spike Milligan reading his warped war memoirs - while I colored in the last few pages of this minor Xmas Opus... Because, you see, while for much of the country, Xmas is white an' snowy - here in Los Angeles it's more greenish (or in east LA, kind of a grungy rust color)... So, in the spirit of a Green Xmas, we present Io & Callisto, those two fun-loving and enterprising Green Alien Bunnies, who seem to have gotten one of those seasonal jobs this Xmas eve...
Without further ado - just click on this link to take you to our li'l Xmas Gift story - rated "PGXS" ("XS" for Excessive Stupidity) Also, a thanx to Walt for Misc. Kibitzing and my Neighbors with the loud party, who would have made it difficult to sleep anyway... Uh Huh JQ...
•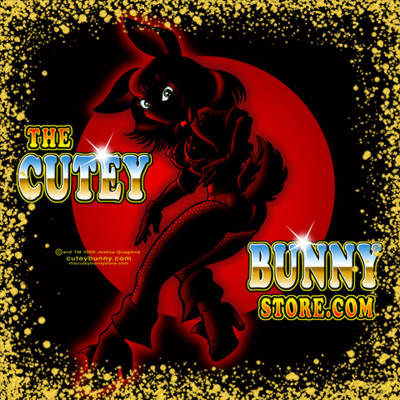 Yes, that's right - another Shameless Plug: The Cutey Zazzle store is still cookin' - this month has new designs for your perusal... Now we've got Beer steins and Coffee mugs imprinted with the Bunny's image... and also T-Shirts, posters, buttons, cards, neckties, mouse pads and skateboards, all with the full-color images of Kelly, Vicky, Bronco Bunny, Li'l Blondie Beaver, even the Battle Maids pictured here, a Bedroom Angel and Mermaid Jazz too... All at the new Cutey Bunny Store! So Go have a look -
•••
QT Calendars are Easy to use with Mac OS8x or Win95/NT,.. older Mac systems need a display utility like ZMacs-BackSplash... Cutey & Cutie Bunnies and associated characters are Copyright and TM 1998 Joshua Quagmire These Calendar Pix are free for personal use but not for reposting or any form of resale..!